By Brenda Parry
"Every season starts with the same objective. Become a better player than I was the season prior. Looking back, I'm proud to see that I've accomplished that objective by reaching new milestones in my career."

Félix Auger-Aliassime after breaking into the Top 10 in November 2021
The 2022 season couldn't have got off to a better start for the 21-year-old Canadian, Félix Auger-Aliassime. Having led Team Canada to victory in the ATP Cup at the start of the year, Auger-Aliassime came within a point of beating Daniil Medvedev, the eventual runner-up, in the Australian Open quarterfinals. Despite going on to lose that match in five tight sets, he proved that he is able to compete on the big stage against the very best. With a dominant 6-4 6-2 victory over Stefanos Tsitsipas in the ABN AMRO World Tennis Tournament in Rotterdam, Auger-Aliassime is now at a 12-3 win-loss record for 2022.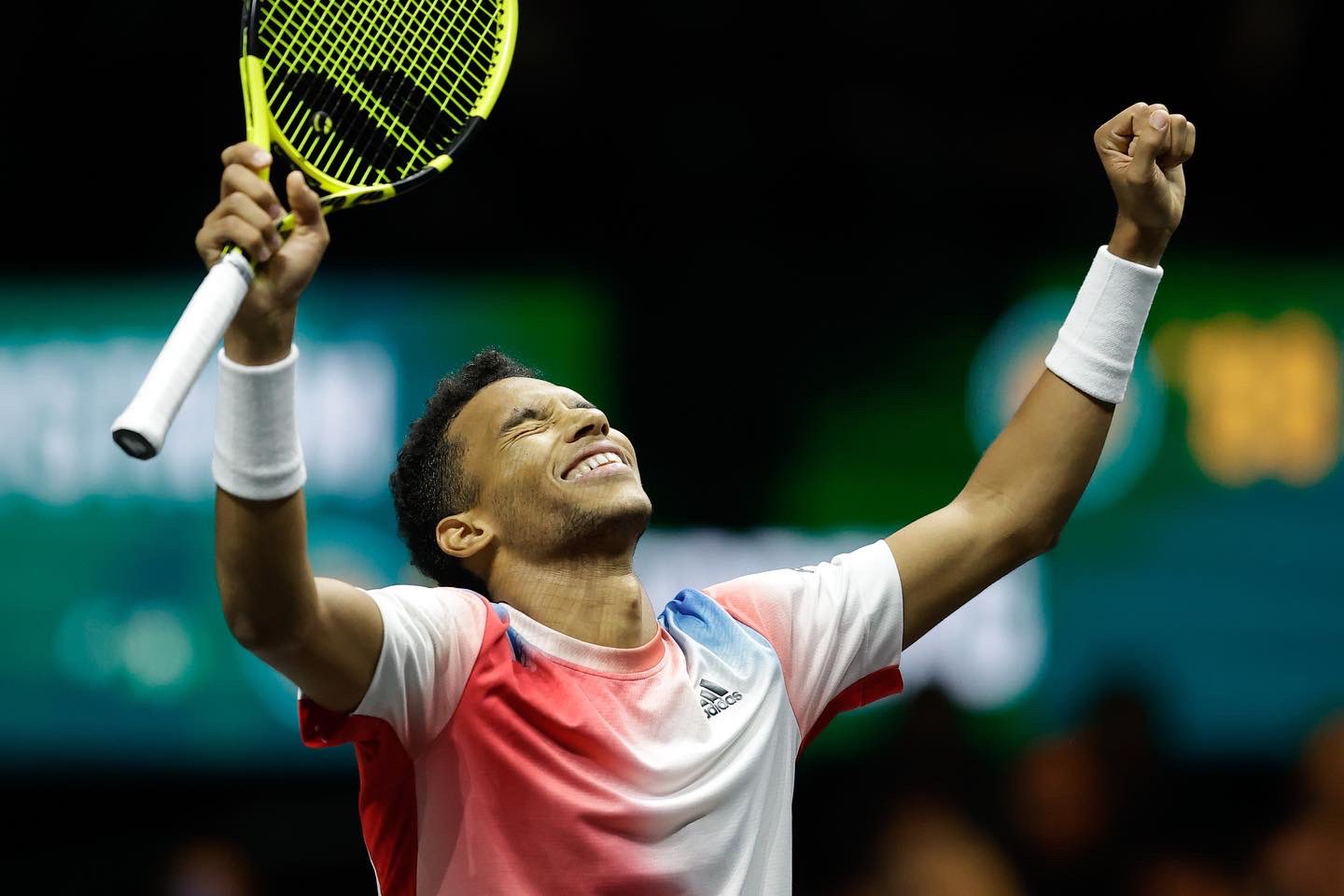 More importantly, though, Auger-Aliassime has finally claimed his maiden ATP singles title, which has been a long time coming. Auger-Aliassime was the in-form player all week in Rotterdam. He beat Egor Gerasimov, Andy Murray, Cameron Norrie and defending champion Andrey Rublev on his way to the final, but there was even more at stake in the final against Stefanos Tsitsipas, the world no. 4 who, prior to the Rotterdam final, enjoyed a 5-2 head-to-head record against Auger-Aliassime. Tsitsipas already has seven ATP tour titles but surprisingly he has not yet won one at the ATP 500 level despite having previously played seven finals at this level. Auger-Aliassime, on the other hand, has previously reached an ATP final on eight occasions – his first in Rio in February 2019 – but has never even taken a set off the winner. Somewhat fittingly, Auger-Aliassime has come full circle by winning his first title in Rotterdam, the same tournament in which he made his debut on the ATP tour as a wild card in 2018. He lost on that occasion to Filip Krajinović in the first round.
From the promise Auger-Aliassime showed as a junior, the journey has been long and arduous, but he is now starting to see the benefits of his hard work and perseverance. He has steadily improved under his long-term coach, Frédéric Fontang. His decision to hire Toni Nadal as his coach for the clay-court season in 2021 might be a contributing factor in the steady progress he has made over recent months. While he didn't immediately reap the awards of working with Nadal (he had a disappointing clay-court season in 2021 and lost in the first round of the French Open to Andreas Seppi), Auger-Aliassime's game has improved on every level since then. His serve has become more powerful, his movement better, he is more aggressive and he handles the big points more effectively. He has grown in consistency and maturity over the second half of 2021 — he stunned his childhood idol Roger Federer (with whom he shares an August 8th birthday) in the second round of the Halle Open, he beat Alexander Zverev in five sets to reach his first major quarterfinal at Wimbledon, then he backed this up with a first Grand Slam semifinal appearance at the U.S. Open in September.
Having finally got the monkey off his back by winning his first ATP singles title after eight attempts, Auger-Aliassime can now play with a newfound freedom and looks set to reach further milestones this year. I'm definitely looking forward to the road ahead!